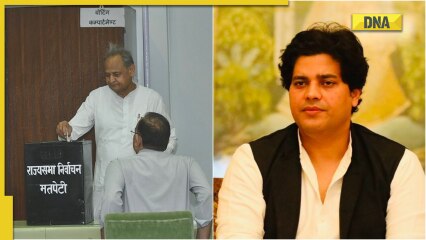 In the Rajya Sabha elections, voting is being held today for the remaining 16 seats in 4 states of Maharashtra, Karnataka, Haryana and Rajasthan. Maharashtra (6 seats), Haryana (2 seats), Rajasthan (4 seats) and Karnataka (4 seats) in all four states have made the competition interesting with additional candidates fielding against vacant Rajya Sabha seats.

For the Rajya Sabha elections in Maharashtra, 50% voting has been done in the first one and half hours. 143 MLAs have exercised their franchise. More than 60 BJP MLAs and 20 Congress MLAs have cast their votes. According to the Election Commission, voting for the Rajya Sabha will start from 9 am and will continue till 4 pm. Counting will start at 5 pm and the situation will be clear by 6 pm.

Read | Rajya Sabha Election 2022 LIVE: Voting in 16 seats to begin shortly, interesting battle expected

Maharashtra will see the contest on the highest number of seats with six seats going to polls. Some prominent leaders, whose fates will be decided today, include Union Ministers Piyush Goyal and Nirmala Sitharaman, Congress leaders Jairam Ramesh, Randeep Surjewala and Mukul Wasnik. 
AIMIM Maharashtra President Imtiaz Jaleel has said that his party has decided to vote in support of the Maha Vikas Aghadi (MVA) alliance in the Rajya Sabha elections in Maharashtra to defeat the BJP. Two AIMIM MLAs in Maharashtra have been asked to vote for Congress candidate Imran Pratapgarhi.
Earlier, candidates were elected unopposed on 41 out of 57 seats of Rajya Sabha in 15 states. While BJP and Congress have fielded additional candidates, some independent candidates are also in the fray. To avoid cross-voting and horse-trading of MLAs, both parties have kept MLAs in resorts, especially in Rajasthan and Haryana.